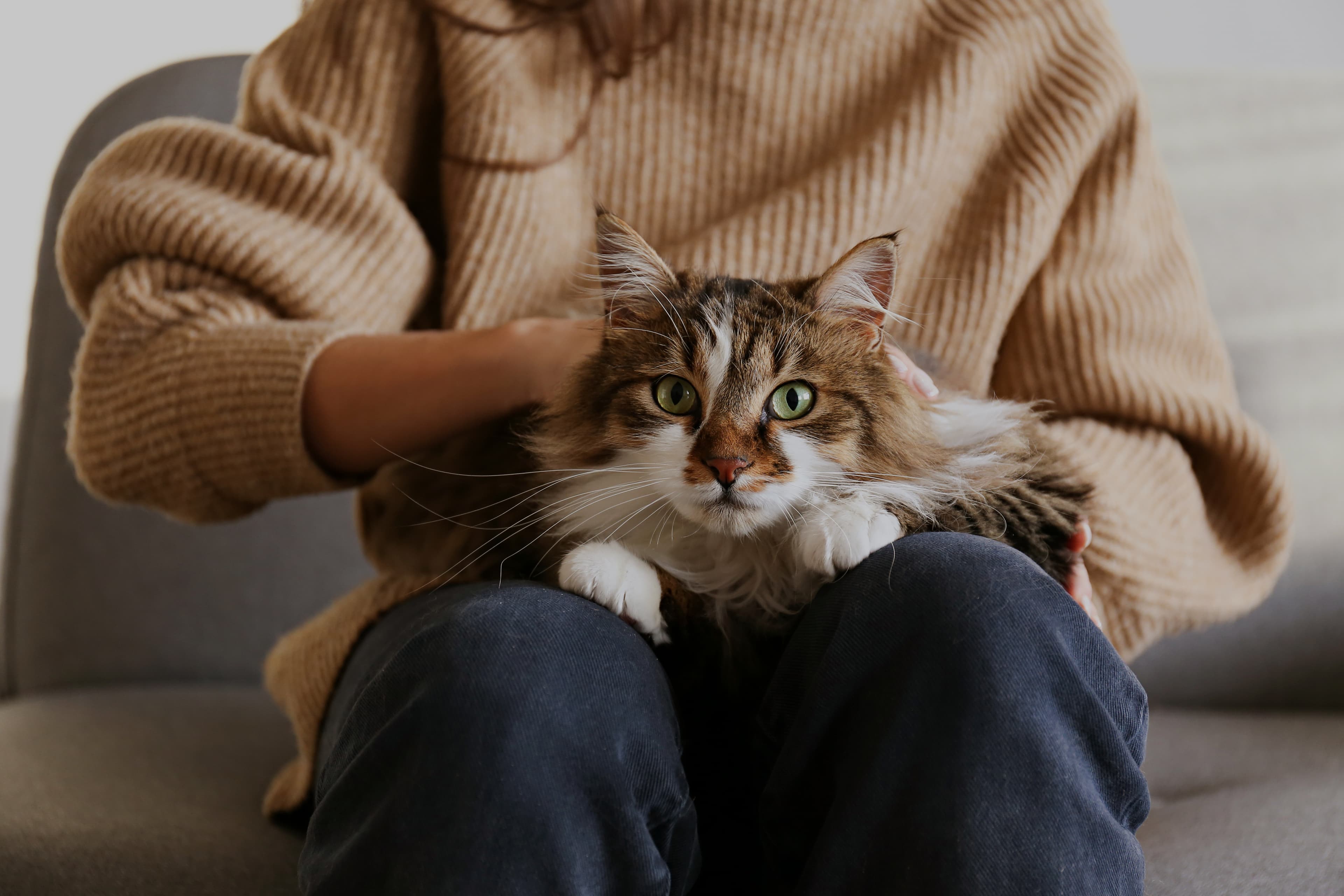 We are there for you in case of an injury
No one wants to have to use their insurance. But if damage does occur, it's important to feel confident that help is at hand. Here we outline what you need to do if your dog or cat need veterinary care.
Call your vet if you are worried about your animal's condition
If you are worried about your dog or cat, we recommend that you first contact a FirstVet vet. With your Lassie insurance you have free calls. Diagnosis can often be made digitally and you will quickly receive advice on treatment or next steps.
Have you had an injury?
Have you been to the vet and want to apply for compensation? Then you need to submit a claim form.
Our app will guide you through the process but if you prefer it you can submit your claim by sending an email to skador@lassie.co. Any questions about your claim should be sent to the same email. We will contact you if we have any questions about your claim.

Our claims department is open Monday - Friday between 08.00-17.00.
Send this information in an email
(You can take photos with your phone!)
Payment will be made to the account of your choice, usually within 3 working days of submitting your full claim form
✔
Account number we should send payment to
Direct regulation
As a veterinary clinic, you can direct regulate with us. Our direct regulation is open weekdays from 08:00 to 17:00 (except public holidays). To make a direct regulation, please email direktreglering@lassie.co. If you have questions regarding direct settlement, call us on 010-183 98 18, dial 3.

Billing address
Lassie AB Org. nr. 559268-8310
Surbrunnsgatan 14
114 27 Stockholm
Have you downloaded the app?
The Lassie app makes it easy to report a claim and gives you an overview of your Lassie insurance.
It's also packed with courses to help you prevent injuries and illnesses. Earn knowledge points and lower your insurance price today!
Do you want to appeal a denied claim?
Did your claim get denied? If you are unhappy with the decision or have questions about it, the first step is to contact your claims handler. If you're still dissatisfied you can make an appeal to our Appeals Board within 6 months. If you wish to do so, please email omprovning@lassie.co to write your justification as to why you are dissatisfied. Other complaints can be submitted to klagomal@lassie.co.

What do I do if I have receipts from different veterinary visits?
If you have receipts from different veterinary visits, you will need to take a picture of each receipt and upload them separately to the Lassie app. Once we receive the receipts, we'll look at them and if the damage is covered by your insurance, we'll arrange a payout.
How do I submit receipts to you?
Submit your receipt from the veterinary visit via the app, under "Insurance" and your damages. Take a picture of the receipt and upload it.
How do I report an injury?
You can easily make a claim directly in the app. At the bottom under "Insurance" you will find both an overview of your Claims and "Report a claim". You can also email us at skador@lassie.co. Please include your insurance number, invoice, visit notes/records, all receipts, any pharmacy prescriptions and the account number to which you would like us to make payment.
Any questions about your claim can be asked in the chat in our app and via the same email. If you have any questions about your claim, our customer service is open every day from 8am to 9pm (except public holidays).
Do you have direct regulation?
Yes, we do and we even have the best opening hours for direct regulation in Sweden. Your veterinarian has the possibility to directly report an injury to us weekdays from 08-17 (except holidays).
When the claim is settled directly, you won't be out of pocket and you'll only have to pay for the fixed and variable excesses. Lassie settles the rest directly with the vet - great, eh?
Do you compensate for injuries or illnesses from previous ailments of my animal?
Yes, we do if they happened more than two years ago. We do not currently reimburse costs from previous complaints (anything your animal has been treated, medicated, examined or shown symptoms for within the last 24 months).
How does FirstVet work in the event of an injury?
By buying insurance with Lassie, you get free access to advice from online vet FirstVet, right on your mobile phone. Your insurance price or how much is left of your insurance package for veterinary costs is not affected (SEK 30 000, SEK 60 000, SEK 160 000 / €3,000, €6,000 or €16,000).
At Lassie, we think it's a good idea to contact FirstVet first before you go to the vet. In many cases, they can help prevent the expensive costs of a clinic visit or advise on the best clinics for your particular problem.
FirstVet helps you with veterinary issues right on your mobile. Common questions they help with are:
Vomiting and diarrhoea

Skin problems and itching

Colds (coughs and sniffles)

Possible poisoning

Accidents and injuries
The calls apply to counselling in case of symptoms or injury. Some examples of calls that are not free of charge are behavioral advice, dietary advice, tick vaccines or prescriptions for preventive care.
So, now to how FirstVet works.
Before the visit:
Download FirstVet on your mobile or register directly in your browser at firstvet.com

Log in with BankID and create your account, we'll help you with the right info about your animal

Book your visit

Choose a time that suits you

Describe the symptoms and send a picture or two

Start the appointment when it's time
During the visit:
Your visit will take place via a video call on your phone, tablet, or computer. You will receive a reminder via SMS just before your call begins
After the visit:
FirstVet will make the diagnosis and make sure your cat or dog gets the treatment needed. You will receive a record of advice and diagnosis sent from the vet. If your cat or dog needs further care, you will be sent a treatment referral.
How many injuries can I report in a year?
We have no limit on the number of injuries you can report in a year. We will reimburse you for damages up to the amount of veterinary care for which you have purchased insurance. We cannot pay for damages that exceed your chosen amount in any one insurance year (30,000 SEK, 60,000 SEK or 160,000 SEK).
Does the insurance cover complications related to pregnancy?
In Medium and Large, the insurance covers complications during the first pregnancy of the dog/cat for treatment and caesarean section.
In Mini, the insurance does not reimburse veterinary care, medication, or other expenses related to a normal pregnancy or for interrupting pregnancy due to miscarriage.
If you would like to know more about what the different options cover, please take a look at our policy conditions under "Overview of what is included".
What are the most common injuries/diseases?
🐶 The five most common injuries/diseases for dogs are:
1. Poisoning
Dogs can often want to eat things they're not supposed to. Some things can be directly life-threatening and others are only poisonous if the dog ingests large amounts. Here is a list of some things that can cause poisoning:
Blue-green algae

Chocolate

Cocoa

Dough

Acorns

Nuts

Raisins

Salt

Grapes

Goatstick

Onions

Glycos

Toads
2. Vomiting or diarrhoea
Dogs usually suffer from vomiting or diarrhoea if they have eaten something they shouldn't. Usually the problem goes away after a few days (12-48 hours). If it doesn't, you should visit a vet.
3. Nose mites
Nose mites are not dangerous; they are non-dangerous parasites that live in your dog's nose and sinuses. Sneezing and giggling are common symptoms of nose mites.
4. Uterine inflammation
Pyometra which occurs when pus is produced and hence uterine inflammation is common in female dogs. The disease often results in an enlarged, pus-filled uterus. Common symptoms of this are persistent, brownish-red and foul-smelling discharge from the orifice. It is most common in middle-aged and older bitches.
5. Urinary tract infection
Dogs, just like humans, can suffer from urinary tract infection or bladder catarrh. Symptoms of a urinary tract infection are that the dog urinates more often, you may see that the urine is mixed with blood and that it hurts for the dog to urinate.
🐈 The five most common injuries/diseases for cats are:
1. Poisoning
Cats can sometimes eat something they shouldn't. In the case of poisoning, the cat may develop a fever, become tired, hungry and have no appetite. Acute symptoms may also include vomiting, diarrhoea, rapid breathing, shaky head/body and unsteady legs.
Here is a list of some things that can cause poisoning:
Lilies

Paracetamol

Ethylene glycol

Rat and mouse poison

Raisins

Grapes

Glycose
2. Vomiting or diarrhoea
Cats usually suffer from vomiting or diarrhoea if they have eaten something they shouldn't. Usually the problem goes away after a few days (12-48 hours). If it doesn't, you should visit a vet.
3. Urinary tract diseases
Urinary tract diseases are a common problem in cats. In many cases for male cats, acute problems can occur as a result. Urinary tract diseases are quite dangerous and you should always go to the vet if your cat cannot urinate normally.
4. Skin problems
The skin of the cat has several functions. Among other things, it protects the cat from injury and maintains the moisture balance in the body. The skin also protects the cat from sunlight and helps regulate temperature. Skin problems often cause itching, which the cat shows by licking itself intensely.
5. Poisonous trauma
Venomous rheumatism or hyperthyroidism is one of the most common hormonal disorders in older cats. Symptoms usually appear from about 8 years of age but from 4 years of age and upwards the cat can be affected. Toxic thyroiditis means that the cat produces more thyroid hormone than normal.
More reading on how to prevent these can be found in our app which you can download here.
Do you replace home visits by a veterinarian?
Yes, if a veterinarian decides on a home visit in case of life-threatening injury or illness and possible transfer that cannot be treated in a clinic.
What is an exception (also called a reservation or restriction)?
An exception is something that is not included in your insurance.
If the insurance is transferred directly to Lassie from another Swedish insurance company, the insurance is valid without a waiting period if the coverage is the same. For illness or injury occurring within the waiting period, an exclusion may be added to the insurance, which means that this injury is not covered/reimbursed by the insurance.
I am dissatisfied with the treatment my dog or cat has received at the vet - where can I turn?
If you are dissatisfied with a treatment at a veterinary clinic or suspect that your dog or cat has been mistreated, you can turn to the Animal Health Care Liability Board at the Swedish
Board of Agriculture:
Ansvarsnämnden för djurens hälso- och sjukvård
Box 322
551 15 Jönköping
Tel. 036- 15 58 53
Fax. 036-19 05 46
E-mail. vetansvar@jordbruksverket.se
Website: www.vetansvar.se